Learn about Cape San Blas
Cape San Blas, a coastal barrier peninsula in Florida, is one of the area's best-kept secrets, home to pristine beaches where the sand is sublime, the water is clear and aquamarine in color and the westerly sunsets offer an amazing display each evening. Beautiful homes dot the coastline. Convenience, clothing and ice cream shops and a couple of restaurants are available. Rental of bicycles, boats, water boards and more at several shops. The Cape is also home to the T.H. Stone Memorial St. Joseph Peninsula State Park, boasting 2,516 beautiful and secluded acres of beaches, campsites, and nature trails. Dr. Beach rated this park #1 in the Continental USA in 2002.
The northern part of the Cape has white beaches and aquamarine water, beautiful dunes and spectacular sunsets. Beautiful homes are located gulf and bay side, some with in-ground pools, hot tubs and fire pits. Barrier Dunes, Seacliff's, the Club at Cape San Blas, and Dunes Club are a few of the area's townhome/condominium sub-divisions, gated communities with lush landscaping, pools, tennis courts, and beach walkovers; you won't find high rises here, only nature at its best. Birds, dolphins, Loggerhead turtles, sea life, aromatic rosemary bushes, and beautiful shells galore are found here.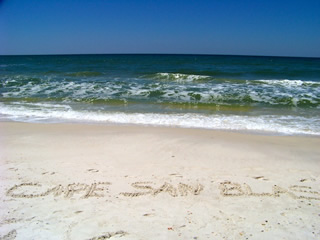 The Southern portion of the Cape has a wide beach ideal for canoes or kayaks. You can drive on the beach and build a bon fire for your evening enjoyment.
You can visit the Cape San Blas Lighthouse, and on a moonlit night you can climb to the top for awe-inspiring views of the beach and sea. Salinas Park, both gulf and bay side are located at the beginning of Cape San Blas peninsula, complete with picnic areas, restrooms, walkovers to the beach and bay, and a bike path leading up to the state park. All Cape San Blas' public beaches are pet friendly. The Cape is a lovely place to be, just walking on its picturesque beaches will make you feel relaxed and renewed.
For more information, visit www.floridastateparks.org/stjoseph/
St. Vincent National Wildlife Refuge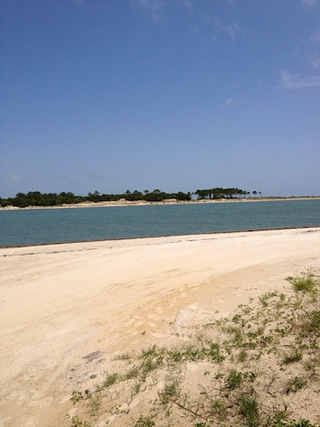 St. Vincent National Wildlife Refuge is an unspoiled barrier island sanctuary, a great place to see and explore nature. This island can be viewed from Indian Pass, but it's only accessible by boat. There are scheduled trips with guides that offer valuable information about the Island and its history. This island is truly inspirational.
For more information, visit www.fws.gov/saintvincent/
Indian Pass
Indian Pass, Florida, has unspoiled beaches and rich estuaries. Oyster bars are formed in the lagoon, where the right amounts of salt and freshwater make the oysters world renown. There is excellent fishing from the beach, or the boat launch is available for easy access into the Gulf of Mexico. Consider chartering a local fishing guide who will know the area and the best fishing spots to get the most out of the abundance of the area. Indian Pass is a rare find, one that you'll want to return to time and time again. Miles of shelling beaches, white dunes, lush natural landscaping of twisted oaks and palmettos are the landscape of the Pass.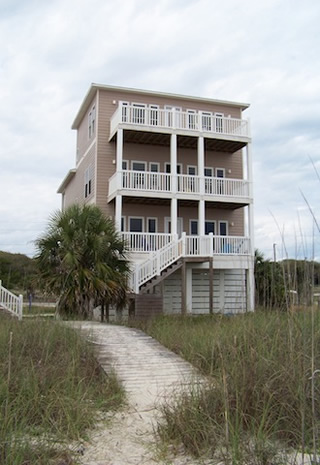 This very eclectic community is rich with artists, writers, bird watchers, and fishermen. You'll find a diverse selection of homes, from large beautiful homes on the beach to small fishing bungalows along Indian Pass road. Driving on the beach is allowed with a permit. Nature is plentiful, with Loggerhead turtles laying their eggs on the beach during the summer months, terns, blue heron, sandpipers, pelicans, osprey all walking along the beach. You'll view eagles, hawks, dolphins, and much more; even a manatee has been sighted!
You will find shells of all kind on the beach. You may build a bon fire for evenings of music and conversation, or just looking up at the millions of brightly shining stars make an awesome sight. This small community offers a lot, and you'll find "Old Florida" at its best. Come see for yourself! Oh, and don't forget to visit the Indian Pass Raw Bar for a night of fun, good food, and meeting the locals. Friday and Saturday offer nights of music and dancing, good times like these make the best memories.

For more information, visit www.indianpasscamp.com/index.html
Port St. Joe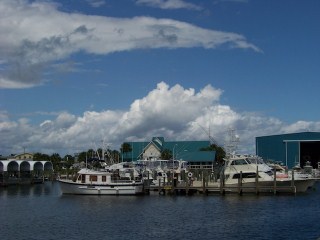 Port St. Joe, Florida, is a bay town, known for the scallops in the bay; scalloping season runs July 1-Sept. 10, 2012. The downtown district is newly revamped, transforming Reid Street into a very inviting destination. Shops of various kinds offer nautical fair, furnishings, gifts, clothing, etc. There are seafood restaurants that serve meals with that trademark southern flare, terrific oven pizza, Mexican food, and even Chinese food is available in this small town.
Every third Saturday morning there is a Farmer's Market with fresh vegetables, artist wares, and music. Take a walk on the Bay Walk Trail and enjoy seeing the Port St. Joe Marina full of lavish yachts, sailboats, and boats of every kind coming in with their catch of the day. The marina fishing pier right on the bay has a picnic area and restrooms available.
There is a park on the bay, complete with a lighted tennis court and a playground for the kids. There is a city boat launch near the park with parking. There is also a pier with a gazebo for a relaxing panoramic view of the bay. Port St. Joe loves festivals and plans many throughout the year. They have parades downtown for school functions and football games; heck, they'll plan a festival for just about anything just for the fun sense of community that makes this place so special. Experience life in a small town amid the areas natural beauty.
For more information, visit psjmarina.com/
Mexico Beach, St. Joe Beach and Beacon Hill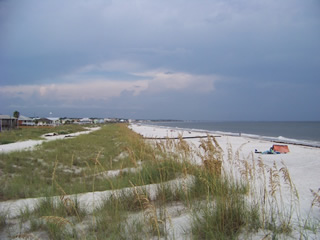 Mexico Beach, St. Joe Beach, Beacon Hill - The Beaches, as they are commonly referred to, are connected along Highway 98. Sugar white beaches with beautiful emerald water make this a favorite destination for family fun. You will find all kinds of fun things to do, like banana boat rides, parachute skiing, and more.
A number of hotels, motels, and restaurants along Highway 98 are available; Toucan's restaurant even has beachside dining. A wide boardwalk located at Mexico Beach for your viewing and fishing pleasure is a favorite. An artificial reef was constructed, making this truly the area's best fishing. There are fishing contests held throughout the year, prompting anglers from all over to make the journey to participate. Many beautiful rental homes, luxury townhomes, and condos with many amenities are available for your enjoyment. Nautical shops are available for those days you choose not to be at the beach.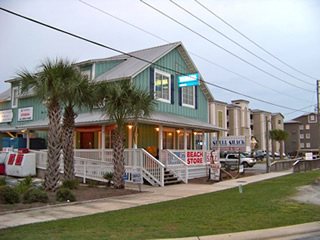 You will also find local art contests held in the community at various times of the year. A large firework display on the 4th of July is beautiful over the Gulf of Mexico. Come enjoy this active community and enjoy the beach!
For more information, visit www.mexico-beach.com/
WindMark Beach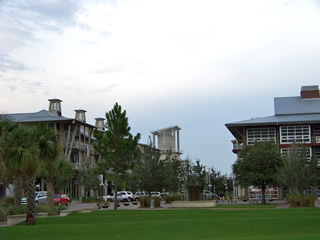 WindMark Beach, a resort community located outside of Port St. Joe, is a beautiful development creation of St. Joe Company. Located right on the bay, you will find a magnificent boardwalk, lush planned landscaping, and a 35,000 square foot zero-entry pool. Guests enjoy complimentary kayaks and bicycles. A children's playground, fitness center and shops are also available for the enjoyment and convenience of guests in the Village Center. Condos are available to rent or purchase, unique architectural designed homes are available for sale, contact me for a list and pricing. Beautiful paths were built throughout this well planned development, and a 3.5-mile Beach Walk was built to enhance and protect the surrounding natural beauty of the area, as well as enabling public enjoyment.
Apalachicola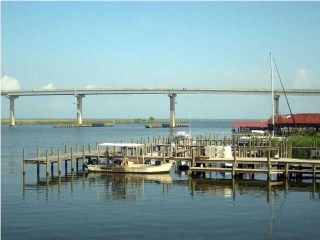 Apalachicola, Florida, before the railways, was the third busiest port in the Gulf of Mexico. In the late 19th century Greek immigrants led the sponge trade that was a major industry in town, along with cotton and lumber. Apalachicola is still a port for seafood workers, including oyster harvesters and shrimpers, whose boats you can see in the bay from the causeway. Old oak trees line the residential streets of the historic district, where you'll find beautiful homes dating back to the early 1900's that have been restored to their majestic beauty. Apalachicola was home to Botanist Alvin Chapman and Dr. John Gorrie, who developed an ice machine used to cool his patients during the yellow fever epidemic. Later refinement of this idea led to refrigeration and air conditioning.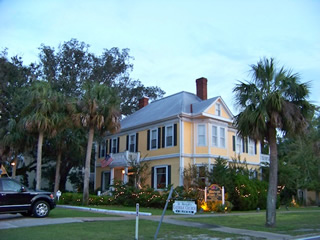 The National Estuarine Research Reserve is the 2nd largest in the nation, at 246,000 acres, and is located on the outskirts of Apalach (as it is known to the locals). Apalach is a river and bay town, home to artists, writers, photographers, musicians, fishermen, and other colorful characters. Restaurants offer fresh seafood and waterfront dining. Apalachicola is also a prime spot for theater lovers. Attend a live performance at the restored Dixie Theatre and enjoy the local acting and what they have to offer. You may bike around town, take a boat ride, listen to the music in the streets, or enjoy a walk along the waterfront district downtown and feel the cool breeze of the waters. This town is truly a glimpse at the past, only better!
For more information, visit wikitravel.org/en/Apalachicola
St. George Island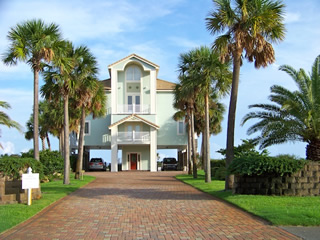 St. George Island, Florida, an island 28 miles long, with the St. George State Park occupying 9 miles of the island. With reservations you may camp and immerse yourself in the beauty of this island. There are hiking trails, observation towers, and boardwalks. The park area is undeveloped with high dunes and beautiful beaches, and swimming in the gulf at the state park is encouraged; you'll find gentle waves, generous white beaches, and aquamarine water.
St. George Plantation is located on the west end of the island, a gated community occupying 1200 acres with homes that are luxurious, complete with pools and amazing views of the Gulf of Mexico. There are hotels and rental properties available, but you'll have to reserve early, as the area stays booked during the summer months. You'll travel a causeway from Eastpoint,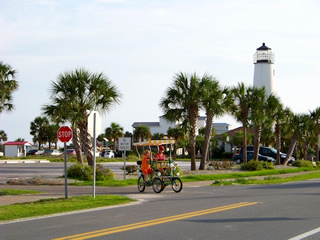 Florida (outside of Apalachicola, Florida) to the Island and see the bay for awe-inspiring views. Residents and vacationers have been coming to the island since around the early 40's -50's to enjoy the island, and it's an area you won't want to miss.
For more information, visit saltyflorida.com/areas-to-visit/st-george-island/