Welcome to Cape San Blas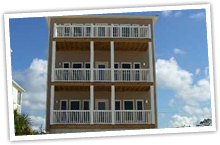 Welcome! I would like to assist you in selecting a property, whether it's vacant land, a home, townhome or condo; you've come to the right place to view the many selections available in this amazingly beautiful area of the Gulf Coast.
It is my passion to help people invest in their own oasis here in the exquisite Gulf region, from Mexico Beach to St. George Island. Not only is it one of the last undeveloped beaches on the east coast—its peace and serenity are life-changing. I can help you invest in a property that fulfills your lifestyle dreams and investment goals. I'd be delighted to apply my qualifications and experience to help you find the perfect property.
"invest in your own oasis"
Find Your Forgotten Coast Beach Home ->
Blog
Lovely ocean front home, 6 bedrooms, 5 full baths with a convenient elevator available. Brick pavers lead the...
Read More ->
June 19, 2010, wanted to post a picture of the gulf as of today, there is no oil in the water; only beautiful...
Read More ->
About Donna

I've lived on the Forgotten Coast for nearly 20 years and have seen the area change and develop first hand. When I moved to Florida, I worked as a marketing and contract manager for a well-known building contractor on St. George Island and Cape San Blas. I am also married to a Master Carpenter whose work, in all phases of building, has been featured in Architectural Digest and other well-known journals. As a result, I have learned a great deal about the environmental challenges and permitting requirements of the area, which further enable me to provide my customers with the best information.
My expertise extends from Cape San Blas, Indian Pass, C30-A corridor, Port St. Joe to WindMark, over to Mexico Beach/St. Joe Beach, as well as Apalachicola and St. George Island.